Contact Us - Refunds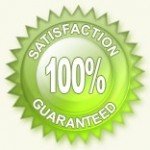 Your orthodontic headgear pillow satisfaction is guaranteed!


We want you to be satisfied or the cost of your Open Spaces orthodontic headgear pillow will be refunded, no questions asked. We do not refund shipping costs.
You have 30 days after your purchase to inform us by phone, fax or email to receive your money back.
Our sincere goal is to offer valuable assistance to help orthodontic patients sleep more comfortably.
If our pillow isn't helpful, you will receive a full refund for the cost of the pillow, no questions asked.
Open Spaces orthodontic headgear pillow Refund Process
We will need your refund request to be submitted via email to: pillows@openspaces.com
We need your complete contact information, name, address, city state, zip code, email and phone contact info. The last 4 digits of your credit card or confirmation number is also required.
Your purchase will be refunded within 30 days upon receipt of your returned orthodontic headgear pillow.
Please return orthodontic headgear pillows to:
Ortho Kinetics Corporation
1611A South Melrose Drive, Suite 16
Vista, CA 92081
USA
If you have any questions, call 800-467-8465 or 760-727-3982.
Open Spaces™ orthodontic pillows for a great night's sleep with orthodontic headgear.